bica® bins, designed by customers, Facility staff & Architects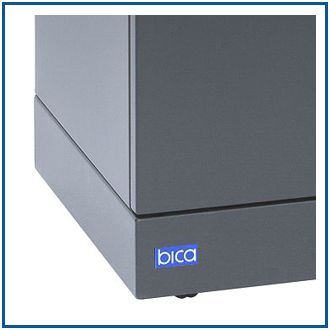 bica® Solve the dirty wheel problem once and for all! Hinges are also hidden to eliminate dirt traps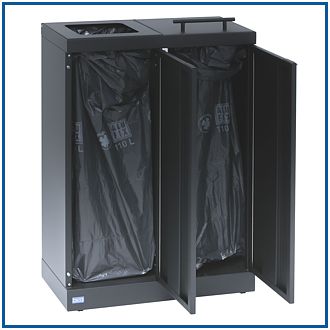 Avoid dirty inner bins causing heavy waste lifting via bags through front opening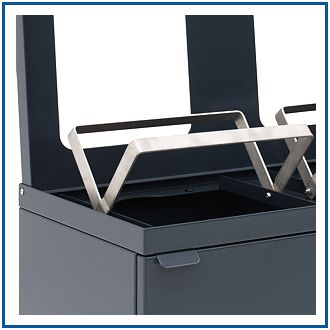 Strong secure bag holder making replacement of bag quick and easy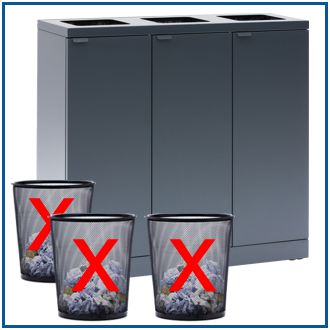 Replace the old bins to waste sorting stations and save facility management hours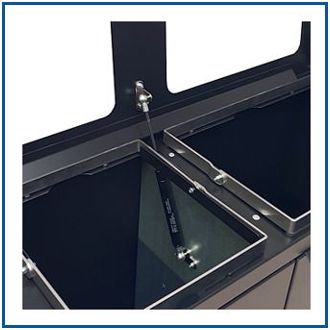 Soft close on all doors and lid dampers on the larger 2+ fraction & pedal bins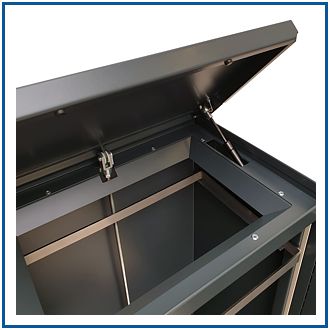 Hands free options via the strongest foot pedal system ever made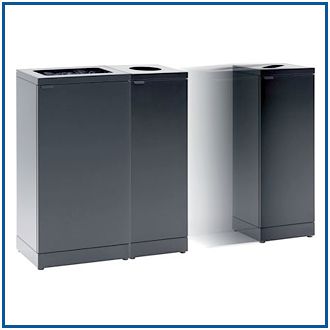 Ad on more fractions as demand increase. Fully modular system combined by magnets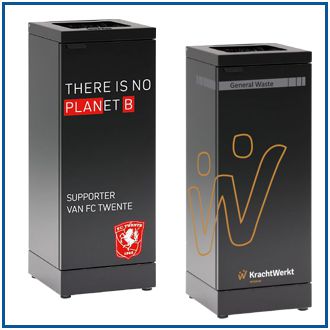 Smooth surface ensure perfect decor options. Ask for color options
Recycling our waste is imperative today. Doing it at the source with style and still have functionality intact, is the real chalange. Carbi has with the Bica series redefined the word wastebin into innovative waste sorting furniture.
With the Bica® Waste sorting furniture, we have thought of everyone:
Front openings to avoid any hard lifting

Stylish design so they blend in with furniture

Build to last decades

Infinite expansion possibilities

No dirt trap and hidden wheels
Call +45 8230 4000 or mails us at carbi@carbi.dk for more information
Project sales, tenders, offers and discount agreements

Consultancy DK, NO, SE, FI, DE, NL

Assortment for both outdoors and indoors

Short lead-time
Used Covid masks in the streets; no more!
Our new outdoor containers, prevent birds from spreading the waste
At the same time it is no longer possible for used masks to pass on viruses to birds and humans. A lot of thought and development has been put into our new outdoor series. Here are a few key points:
1. Weatherproof for many years via i.a. plinth and top in stainless steel
2. Possibility of joint flap, so i.a. pigeons and gulls do not disperse waste
3. Used masks and other items remain in the container until emptied
4. Possibility of throw-ins from both sides
5. With the flap limited supply of oxygen, makes it fire retardant
6. Stylish design so it look presentable in the surroundings and can replace existing old containers
7. Ready for expansion, more modules can be added when the need arises or you want actual waste sorting
8. Also available as two and three rooms
9. Ashtray in top or as a side-hung version possible
10. Personnel avoid heavy high lifts as the container is opened in front when emptying the bins
Read more here and take contact for further information and demo...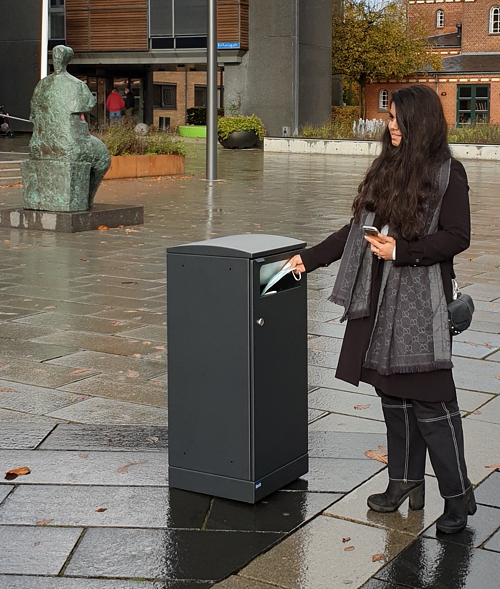 When schools sort waste at class level
Thanks to Munkekærskolen in Solrød Strand DK for pictures. The school became the first to roll out our new member of the Bica series to their approx. 950 happy students.
The new waste container is available in two sizes; 3 x 15 liters and as here 3 x 20 liters. You can also vary inner the containers for e.g. 20 + 20 + 10 + 10 - or what add up to 45 or 60 liters respectively.
Key Features:
Simple mounting bracket included for hanging
Easy cleaning underneath
Dirt protection of the wall behind
Extremely robust = long life
Ultra easy emptying
Flexible volume combinations
Inner containers in recycled pvc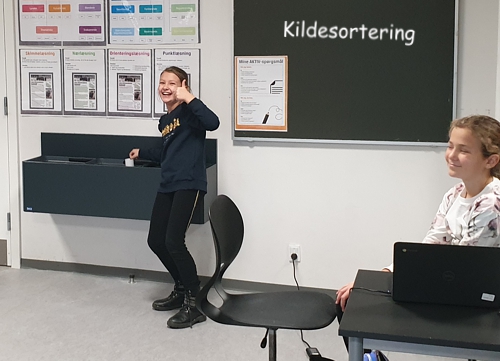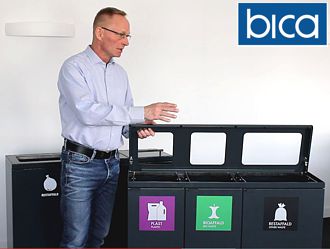 The most well-thought-out brand in innovative waste sorting furniture.
Developed by Carbi in collaboration with customers, builders, facility management and architects
Excerpts of references

Don't Waste Waste