Bica Series; A natural contemporary waste sorting solution
Source sorting of waste is a dynamic process. What is sorted today changes over time as the opportunities for recycling increase. Think from the start if the wishes and needs are a static rubbish bin or a long lasting furniture that can be adapted and expanded.
Metal, wood or plastic?
We build on metal for four simple reasons. It is cheaper to buy the right product the first time. At the same time we have to think about recycling after the product service life has expired. Plastic is an oil product that is still challenging to recycle. Bacteria penetrate deeper into wood than into metal. It is important to keep these 4 points in mind:
Fire hazard is minimized
The recycling rate for metal is high
Durability
Hygiene
Maintenance free = no service cost
In addition to the flexibility, you also get a piece of furniture that is maintenance-free and extremely robust. 1.3 mm body and 1.5 mm lid and socket. The bins in the series with front opening are assembled with hidden hinges. Plinth protects wheels and feet from dirt. No loose parts to hold when changing bags. Build to last decades.
Developed continuously in collaboration with architects, builders, service staff and customers
Bica started as an actual brand in the spring of 2014. It quickly became a really good alternative to existing products on the market and is today on the way to become market leader. This process has taken place in close collaboration with players in the industry and has led to waste sorting going from ordinary waste bins to actual source sorting furniture.
Matches any environment and the vast majority of needs
The style is classic design with clean lines. That is why the Bica series matches so well into the European style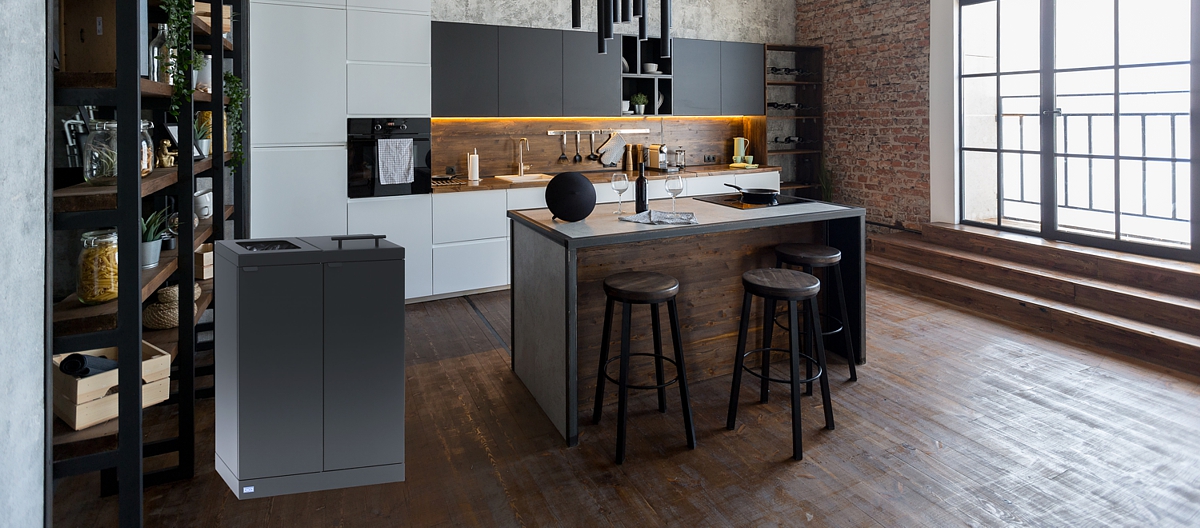 What you get with top series from Bica
Future-proof solution via module additions




No visible bags or loose parts to hold when changing bags

Minimal depth. Does not block fire routes

Free choice of colors from 25 pcs.

Strong none-slide bag holder that ensures bags do not slip down

Front opening for easy emptying without heavy lifting

Magnetic closing doors; no need for keys etc.

Soft close in front doors

Inside containers in recycled plastic

Fire resistant. Geometric intact even after intense fire (Tested at DBI)

1.3 - 1.5 mm material thickness provides extremely long life span
Wheels under 2 and 3 compartment stations

Adjustable feet under single bins - option for wheels




Wheels and feet are hidden to avoid dirt traps

No visible hinges also to avoid dirt traps

Easy to keep clean

Smooth surfaces

Clean lines in design. Neutral to every environment

Standard bags can be used throughout the series

100% recyclable materials

Clippings during production are recycled

Ergonomically correct user height
The difference between the S26 and S30 Series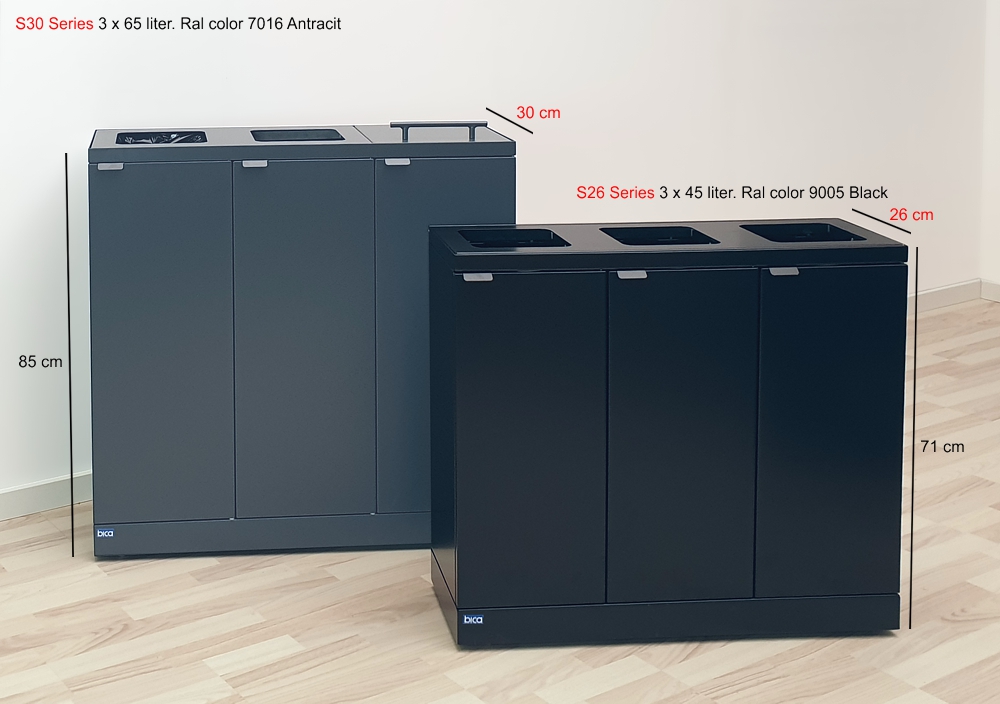 Left: RAL 7016 Antracit. Right RAL 9005 Black.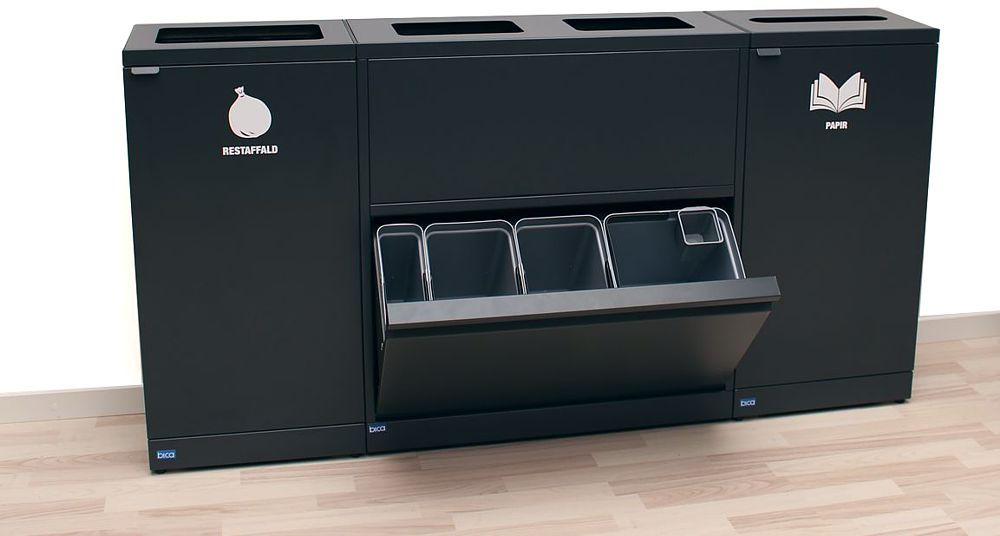 For the large collection area, such as the canteen, the 95 liter container 857 is usually a must for leftovers, paper or food waste, so it can be the starting point, as in the example here (857 on the outer wings).
With module 880 added (in the middle), as in the picture, you now have from 4-8 fractons extra, depending on which bucket sizes you choose for. At the top there are 2 x 20 liters and in the drawer you can choose e.g. 2 x 20 liters more or 15 + 15 + 10 liters or 4 x 10 liters.
Here we have added an 857 extra. Note 857 is also available with lifting lid (854) for e.g. food waste. This way, banana flies in the canteen area are avoided. Leave the lid open when eating so that there is easy access and then close it after the meal break.
Buckets combination in drawer in the picture:
5 + 10 + 10 + 15 liters + battery container.
Top 2 x 20 liters.
65 & 95 liter containers can be set side by side as required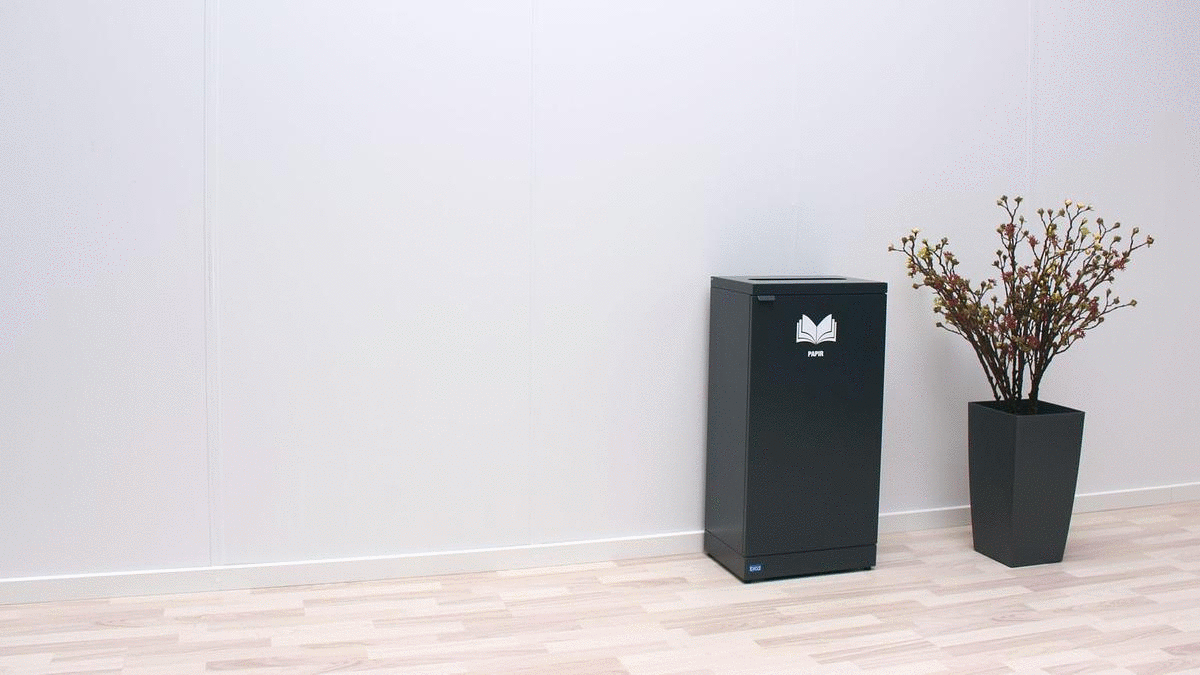 Even if you have a two- or three-compartment Bica station, you can also always add more single modules
Freedom to combine
If you type S30 in the search field (top right), all those with a depth of 30 cm will appear that you can combine. If you type S26, all those with 26 cm will appear that you can combine.