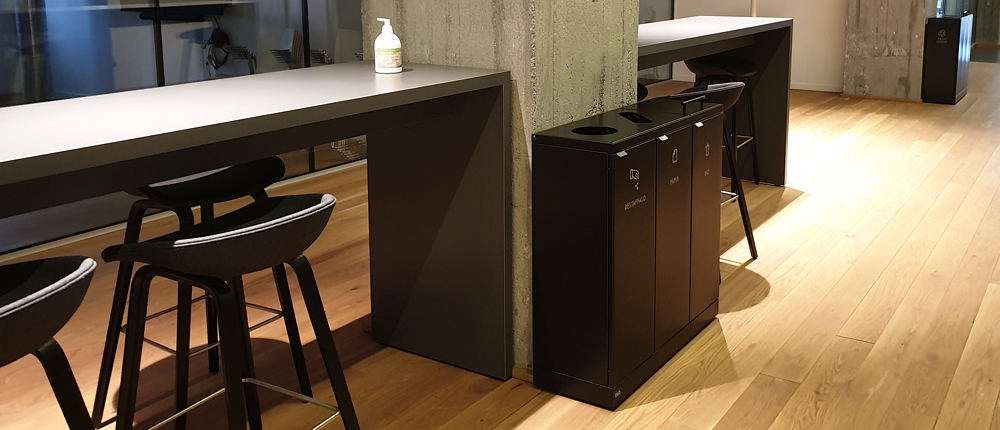 The Ministry of Education is preparing their new environment. They chose three factions Bica with nudging at the top. ( Model Nr. 875)

FC Twente in the Netherlands got new Bica bins in- and outside. Model 5070 outdoor in the picture
Municipalities, Schools, Museums & Centers
DK Royal Arena

DK Københavns Kommune

SE Stockholmsmässen

DK Herning Centret

DK Gladsaxe Kommune

DK SMI-skolen, Vestfold Fylkeskommune

DK Experimentarium

DK Rosborg Gymnasium

DK Broen Shopping

NO Steinerskolen Indre Østfold

DK WestMarket

DK Kolding Storcenter

DK Østre Havn Aalborg

DK Bella Center CPH

NO Marker Kommune

DK Børne U.N.I. KBH

NO Oslo Kommune via U.I.P. Bus stops

DK Rudersdal Kommune

DK Kolding Kommune

DK Ålborg Kongres & Kulturcenter

NO Oslo Kultur & Idrett

DK Naturkraft

DK Artium Brande

DE Hamburg Messe und Congress
Companies, Architects & Organizations
DK Grundfoss

DK SPX Flow Technology

US & EU Joe & The Juice

NO Oslotech AS

SE ABAKO Arkitektkontor AB

DK LEGO

DK Microsoft Denmark

DK TV 2 Danmark A/S

DK Kræftens Bekæmpelse

DK Lagkagehuset

NO Origo Solutions AS

DK Danmarks Idrætsforbund

DK Novo Nordisk

SE ICA Kvantum

NO MER Management AS

SE Fastighets AB Balder

DK Pension Danmark

DK Rubow Arkitekter

DK Chanel

DK DSV

SE ABB

NL FC Twente

DK Bane Danmark

DK Trafikstyrelsen
Universities, Banks, Hotels & Airports
DK Danmarks Nationalbank

NO Oslo Universitet

DK Aalborg Universitet

DK Kirkbi

NO Norefjell Ski & Spa

NO Radisson Blu Royal Garden

DK Københavns Universitet

DK Danske Bank

SE Hotel At Six, Stockholm

DK Arp Hansen Hotel Group

DK University College Syd

DK Roskilde Universitet

DK Copenhagen Airport

NO Hotel Folketeateret AS

NO Norwegian Computing Center

DK Scandic Hotels

DK Brøchner Hotels

DK Tivoli

DK Learnmark Horsens

DK Forskningsministeriet

DK Mercantec

DK Kongelige Danske Kunstakademi

DK Via University College Horsens

DK Erhvervsakademi Dania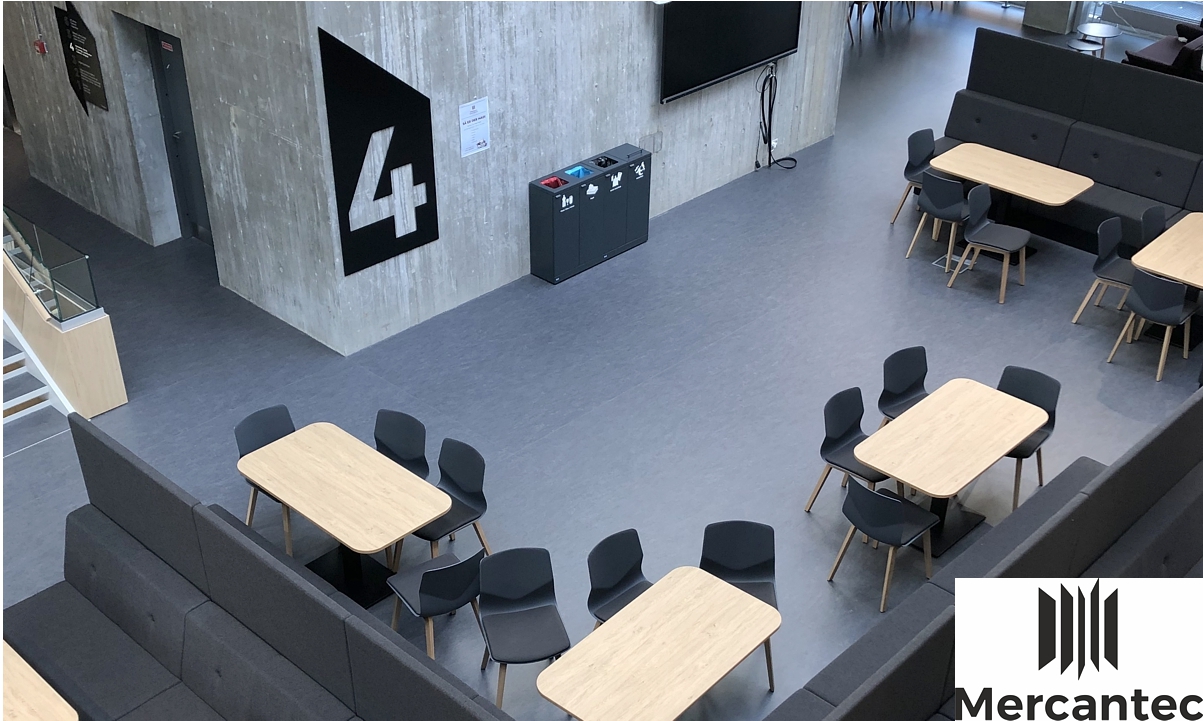 More than 20,000 students and course participants complete educations and courses annually at Mercantec's addresses in Viborg, Bjerringbro, Skive, Hoverdal and Ulfborg. Mercantec also uses our Bica models for waste sorting and has designed their own pictograms.
To achieve 4 fractions, they have combined models 867 and 874. An example of Bica combinations in beautiful surroundings.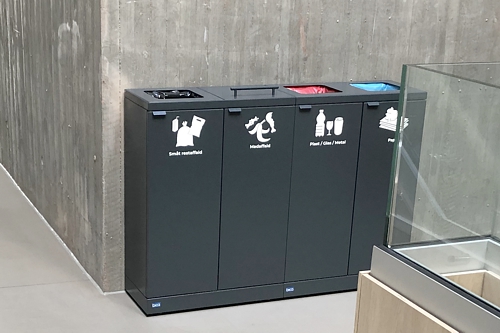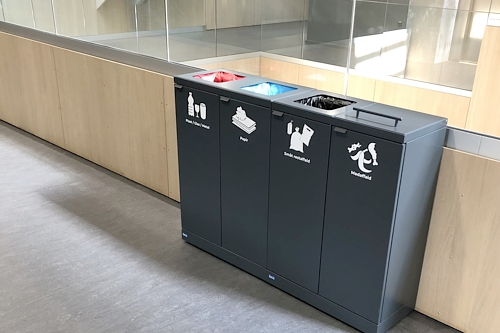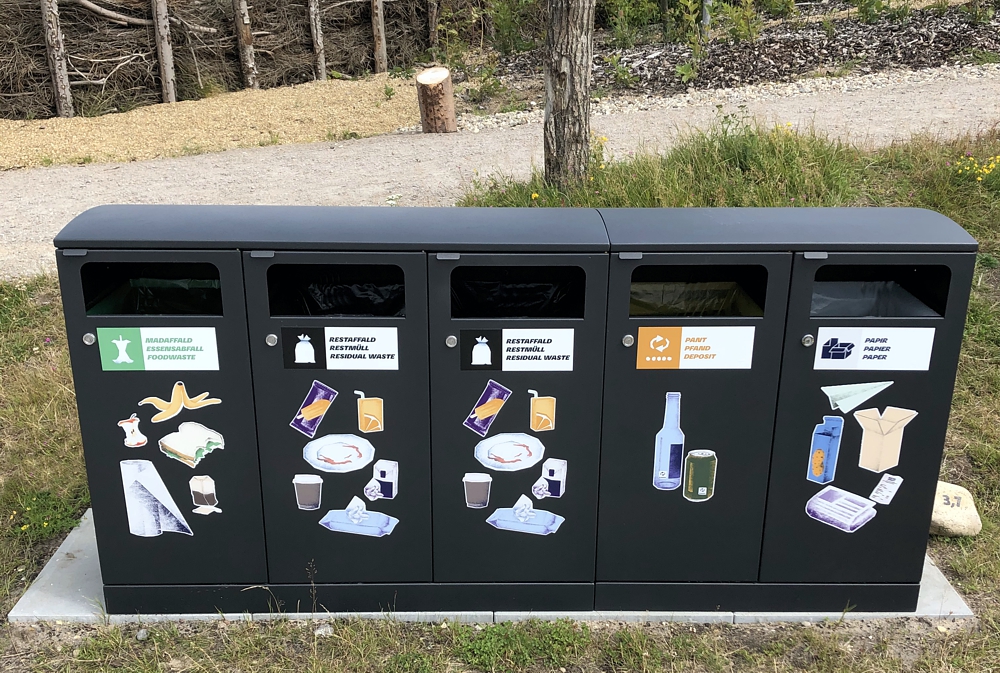 Naturkraft
: Bica model 713 three-compartment in combination with 712 two-compartment bins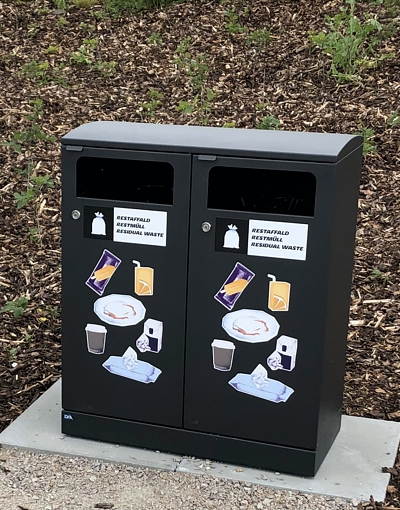 Naturkraft chose Bica's new outdoor series to take care of thousands of visitors' waste in a proper way. Model 711, 712 & 713 link
Indoors, there are also Bica waste stations strategically well distributed in the 500,000 m² experience center.
Here they whent for model 867 which in some places is placed side by side to obtain 4 fractions. The image to the right ...
The pictograms have Naturkraft itself designed and mounted.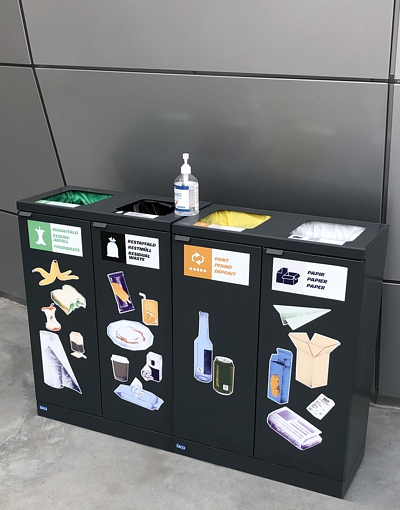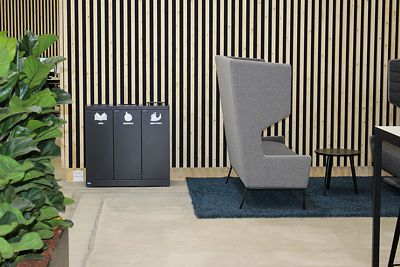 Thanks to SPX Flow Technology in Silkeborg for allowing us to take pictures in your beautiful surroundings ...
If you want to visit our show room or get a visit from Carbi, where we bring samples, to see which waste containers or source sorting solutions match your needs, please contact: carbi@carbi.dk or call now:
+45 8230 4000 for Scandinavia & +31 6 57 818 166 for Germany and the rest of the EU.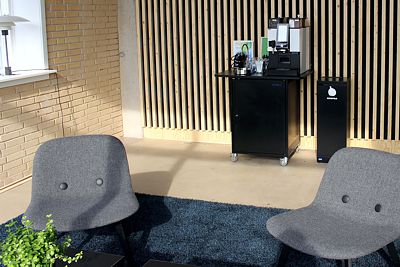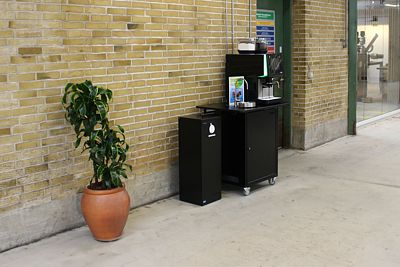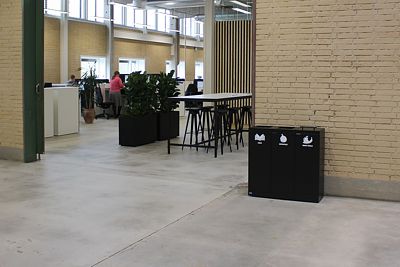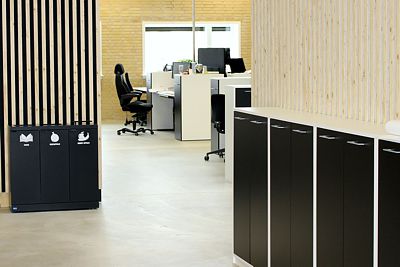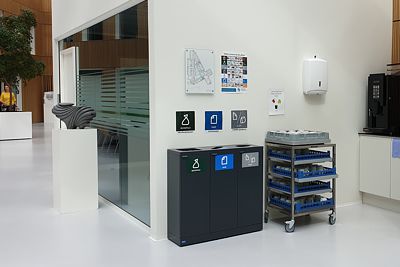 Furesø Municipality's beautiful City Hall
Here they are far ahead when it comes to sorting waste at the source. It does not stop at the town hall, but extends to schools, institutions and other public spaces in the municipality.
Here, robust solutions and flexible solutions are chosen, so you do not have to buy in again after a few years. Precisely the fact that you can expand as more sorts / fractions are desired, means that you can keep the same style in line with the development of sorting waste.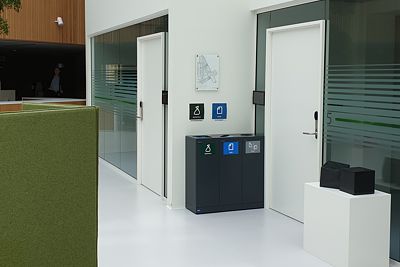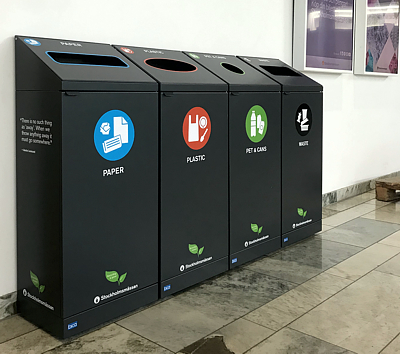 Source waste sorting for 75000 m2 in Stockholm
- A strong example of great teamwork. Stockholmsmässan had a very clear description of how source waste sorting for thousands of annual exhibitors and visitors should be handled.
We started with our Bica 95 liter standard waste bin. Gave it the slope at the top, which the exhibition center had calculated as optimal.
We made openings as they wanted. Eventually they made texts and graphics and then it all went up into a higher unity.
Hidden wheels for easy cleaning under the stations, which are held together via magnets. The waste stations are distributed through out the exhibition area. See them the next time you visit the fair.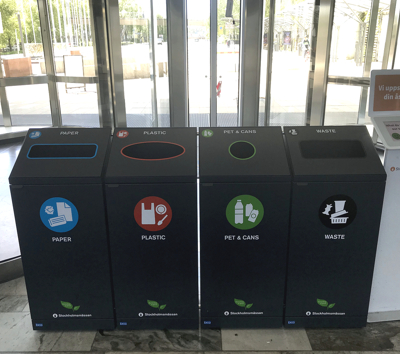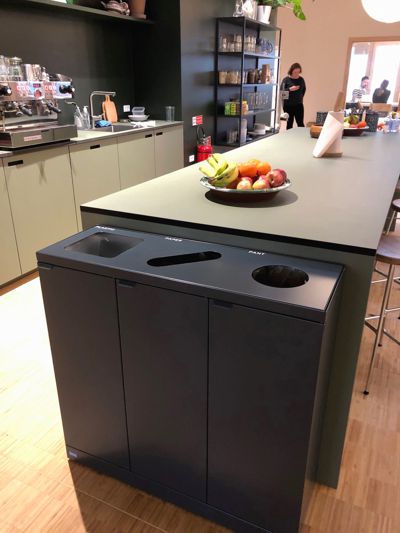 Feast Kitchen
When it comes to delivering good food, you must of course have control of hygiene. This is especially true when it concerns waste.
The choice fell on two models, namely the popular 3x65 liter with nudging (left) and 873 with lifting lid (right).
Lifting lids have the advantage that residues from waste do not stick as on a pressure lid. At the same time, avoid the swarm of banana flies around your container.
Thanks to Feast kitchen for the pictures